To interview Graciela, call Media Relations at (510) 542-9449

CURRENT NEWS RELEASE
Air Force Veteran turned Entrepreneur Graciela ​Tiscareño Selected as Finalist to Pitch Live at the Inaugural Veteran And Military Spouse Entrepreneurship Freedom Summit June 30th in Rocklin.
Pitch Focus will be "Authentic Personal Branding for Military Veterans" – a NEW Online Class to Help Transitioning Service Members, Veterans & MilSpouses Think like Marketers and Differentiate Their Value
June 28, 2018 - San Francisco East Bay firm Gracefully Global Group LLC is pleased to announce that founder and veteran Graciela ​Tiscareño has been chosen as one of four finalists to pitch live at the Inaugural Veteran and Military Spouse Entrepreneurship Freedom Summit in Rocklin on Saturday, June 30th.
"After serving as judge and keynote speaker at multiple pitch competitions at entrepreneurship events for high school and colleges students, I'm thrilled to step onto the stage as a pitch competitor and am grateful to Freedom Summit founders for the opportunity," said Ms. Tiscareño. "I'm looking forward to showcasing the digital offerings we've added to our educational publishing firm's catalog as we expand the products and services we provide to help my fellow veterans and transitioning service members who'll soon become civilians. I can't wait to share our business plan to scale now that all our operational systems are in place to do so."
The pitch video entered into the competition describes how Ms. Tiscareño and her team are planning on scaling this growing woman-veteran-owned eCommerce and services business while plugging an obvious workforce development skill gap for transitioning service members and military veterans. See the pitch video here.
At the Summit hosted by Sierra College on Saturday, Gracefully Global Group will formally unveil the brand new Authentic Personal Branding for Military Veterans offering now available here.
This is a unique three-module, on-demand class to help transitioning service members and veterans create powerful personal brands that help to differentiate each one as the MUST-HAVE candidate. The new course is modeled after the highly-interactive workshop the company founder has facilitated for many student veterans at colleges and universities coast-to-coast for five years.
Mitch Craddock served as President of the Texas A&M Veterans Association and attended her 2017 workshop in College Station. He said, "The Authentic Personal Branding seminar led by Ms. Tiscareño was absolutely instrumental to helping our veterans understand their real value! Far too often do service men and women leave the military not fully understating their true impact and how their individual contributions made a difference. They mask the very characteristics that enabled them to go above and beyond for their country behind their own humility and selflessness, and as a result, miss out on many opportunities. I have witnessed this as a reoccurring pattern in many veterans transitioning back into academia and later out into the workforce. Graciela's Personal Branding Seminar was unique in the fact that it addressed this problem directly and instituted a personalized solution for each individual in attendance. She utilized her own knowledge and military experience to personally connect with every veteran in the room and approached each situation as if it were her own. Using expert communication skills, Graciela assisted each and every individual with breaking down their own history, putting it in perspective, and aligning it toward their future goals. Graciela helped a room of veterans self-actualize their own worth, while also equipping them with the communication skills they need to demonstrate that worth and accomplish their goals. Graciela's Seminar was a valuable experience, one that every transitioning veteran should have."
Ms. Tiscareño left active duty aviation service after completing her master degree in international management and global marketing. She's held marketing management positions in the telecom and renewable energy sectors where she led all aspects of product branding, strategic marketing and launch execution, before creating her own content development and publishing firm seven years ago. She's taught this critical skillset needed by military veterans conducting job searches, applying to universities/graduate schools/Officer Candidate School and to those embarking on the entrepreneurship journey. Veteran audience settings have ranged from conferences like Syracuse University's V-WISE program to workshops on college campus and at public libraries with community programs serving veterans returning to the workforce after rehab.
Unlike other content for this community that tends to focus too much on resume creation and jargon translation, this course is about the art of creating compelling language through storytelling to attract the desired audiences' attention so that they're begging to know more about the veteran. Also unlike other courses out there, this online class focuses on each student veteran's unique experiences to create a distinct brand. Plus, unlike other courses on this topic, this one was created by a veteran who brings both first-hand knowledge of the often-painful military-to-civilian transition experience and a graduate degree in marketing.
Ms. Tiscareño envisions this content being eventually adopted into the existing Department of Labor Transition Assistance Program that service members participate in before leaving active duty service. Many veterans in Ms. Tiscareño's workshops have stated that this critical content is missing from TAP and would like to see curriculum focus more on these types of skills and less on how to look up DOL labor statistics. The founder is actively seeking TAP program developers, consultants and partners to explore synergies and get this content into TAP to benefit service members as they exit.
For her servant heart and dedication to social entrepreneurship, Ms. Tiscareño has been recognized on the floor of the House of Representatives by her Congressman Eric Swalwell and by the Obama White House as a White House Champion of Change Woman Veteran Leader.
Military institutions, universities and Veteran-Serving Organizations wishing to host Ms. Tiscareño for a live interactive Authentic Personal Branding workshop to serve veteran communities should inquire at (510) 542-9449.
Gracefully Global Group LLC is an independent, woman-veteran-owned educational publisher creating books, eBooks, digital courses and live presentation content. The company is certified by the Small Business Administration as an 8a firm and as a Woman-Owned Small Business to serve federal agencies; it's also a certified Small Business by State of California DGS. The firm's first book in the Latinnovating (978-0-9834760-0-9) series received three honors at the International Latino Book Awards in New York City when it debuted, for its unique focus on showcasing Latino-led innovation and entrepreneurship in the green economy. The firm also publishes the award-winning, bilingual Captain Mama children's book series inspired by the founder's aviation service. Using educational literature, the firm helps organizations and corporations with diversity and inclusion initiatives reaching out to veteran and Latino communities with a creative blend of literature, multicultural marketing and public speaking offerings. Its mission is to "create literature that showcases the positive contributions of Latino Americans in the USA."
# # #
"Employment workshop for women vets," April 4, 2018, Hanford Sentinel
NEWS RELEASE: "Graciela Tiscareño-Sato, Military Veteran & Award-Winning Author, to Keynote at Austin Area Association for Bilingual Education Conference," 4/22/2017
NEWS RELEASE: "Military Veteran and Award-winning author of Bilingual Children's Books will Celebrate April Month of the Military Child with Students at NAS Lemoore Neutra Elementary School April 6th " April 4, 2017
"Dutcher celebrates biliteracy with inspirational speaker," Turlock Journal, April 7, 2017
NEWS RELEASE: Graciela Tiscareño-Sato, Award-Winning Author and Military Veteran, Will Deliver Keynote at Texas Association for Bilingual Education conference

USA Today feature (and print Hispanic Living Magazine too), "Diverse children's books need more visibility," Sept 24, 2016
A teacher at the Phoenix Learning Center at San Marcos High School penned this piece for the San Marcos Daily Record after being so moved by Graciela's presentation.
NBC News feature: "Here Are Some of the 18th Annual Intl Latino Book Awards Winners" Sept 9, 2016
NEWS RELEASE: "Latina Veteran Graciela Tiscareño-Sato Authors Second Bilingual Aviation Children's Book" July 21, 2016 via Hispanicize Wire
NEWS RELEASE: "Air Force Veteran who Began Military Career in Sacramento Returns for Weekend Women Veterans Alliance UNconference to Unveil NEW Bilingual Children's Book About Military Women," April 14, 2016
"Hofstra honors veterans with memorial service," The Hofstra Chronicle, By Laurel O'Keefe, December 7, 2015
Fox News Latino, December 4th "Latina Veterans proud to finally see all combat jobs open to women"

NEWS RELEASE: "U.S. Air Force Veteran Graciela Tiscareño-Sato to Keynote at Hofstra University in Honor of Diversity Awareness Month: Veterans Day Event November 11th"
NEWS RELEASE: "Graciela Tiscareño-Sato to Keynote in San Antonio at Sixth Annual Dual Language Conference Friday November 6th"
NEWS RELEASE: "Hayward Military Woman Veteran Honored in Event with First Lady Michelle Obama"
NEWS RELEASE (from the Business and Professional Women's Foundation): "BPW Foundation Salutes Five Outstanding Working Women Leaders- Awards Are Part of National Business Women's Week Celebration," November 2014
Cal Marching Band Alumni Newsletter North Tunnel Echo "Alumna Graciela Tiscareño-Sato Honored by White House"
Whitworth alumna recognized by White House for military service and entrepreneurship, May 1, 2014
VIDEO Interview on alDia on Estrella TV, Channel 42, San Francisco (Spanish)

Honoring Graciela Tiscareno-Sato -

text of moving tribute by Congressman Eric Swalwell on the floor of the House of Representatives, 3/26/2014 seen here
News Release: March 21, 2014 "Obama Administration Recognizes the Leadership of Latina Veteran and Founder of Multicultural Educational Publishing Company Gracefully Global Group for Her Work to Raise Expectations of Latino Students and Voices of Veterans" - Download our entire press release here as Word doc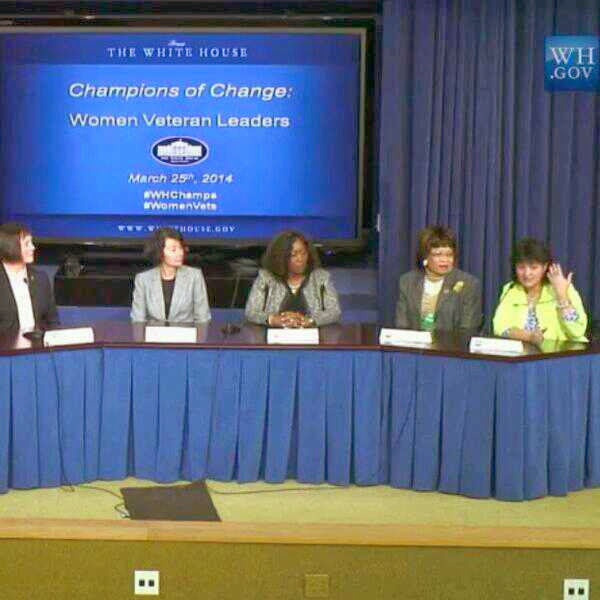 "Supermom Graciela Tiscareño-Sato Gets Honored By White House," Latina Madre, March 25, 2014
"White House Honors Hayward Woman," by Rebecca Parr, Daily Review, [also ran in Contra Costa Times, San Jose Mercury News], March 24, 2014
"Capt. Mama challenged Air Force gender barriers," Contra Costa Times, Sept. 22, 2013
"Air Force veteran inspires through book, 'Good night Captain Mama,'" NBC Latino, July 5, 2013.
"Author Interview," by Mayra Calvani for Examiner.com.
Audio recording of Author Interview at Condor Musings.
NEWS RELEASE- Announcing partnership with V-WISE (April 2013).
Graciela Tiscareño-Sato presents: Good Night Captain Mama at New Latina.
New Latina Spotlight, April 2013.
Feature article: "Castro Valley Mom Writes Children's Book About Her Air Force Days," Castro Valley Patch.
"Books to Read," The East Harlem Journal, January 1, 2013.
First feature in a national magazine: LatinaStyle Magazine "About the Author."
KWMR Radio, "Barrio Vibes" show with host Gus Conde, July 2012 *interview starts at 87:30 point*.
"Stepping forward and speaking up: A Latina's call to action," Vision Hispana, July 5, 2012.
"Adelante y levantando la voz: Latina hace un llamado a la acción," Vision Hispana, July 5, 2012.
"Ten Latina-authored books for summer," VOXXI June 2012.
Latino Literacy Now Announces 2012 Latino Books into Movie Award Winners, April 23, 2012.
Profile with Modern Latina, April 23, 2012.
"Kicking off Earth Day 2012," Fox News Latino, 4-part series of stories from Latinnovating, April 2012.
"Bringing Green Jobs Home: Spotlighting Latino Innovation," April 12, 2012.
"Green Power Plays," PODER Magazine, March 2012.

"Tomorrow's Green Jobs for Latinos," PODER Magazine, March 2012.
"Author highlights Latino 'creative advantage;" La Voz De Anza Community College student newspaper, March 19, 2012.
On KCBS radio with Patti Reising, discussing Green School keynote and book Segment 1 and Segment 2.
TV Interview on CBS-San Francisco, Feb 2012.
La Voz (Arizona) "La creatividad y cultura latina impulsan la economía "verde", según una experta" Feb 28, 2012.
La Opinión (Los Angeles) "Latinos impulsan la economía 'verde,' " Feb 28, 2012.
Diario Libre (República Dominicana) "Los latinos crean "trabajo verde" en Estados Unidos," Feb 28.
Latino California "Hispanos impulsan con creatividad la 'economía verde,'" Feb 28, 2012.
Noticias MSN "Creatividad y cultura latina impulsan la economía "verde", según experta," Feb 28, 2012.
Innovar.org "Latinos impulsan la economía 'verde,' " Feb 28, 2012.
México Informa, "La creatividad y cultura latina impulsan la economía "verde", según una experta," Feb 28, 2012.
"Bay Area Author and Entrepreneur to Headline at Green Schools National Conference," Patch.com, Feb 27, 2012.
"Tips for Building a Greener Portfolio," Decisive Latino magazine, Winter 2012.
"Sounding Off: Laura Sonderup ¿Cómo se dice "green" en español?" Portada, Oct 21, 2011.
"Hispanic college enrollment surges: College completion still a challenge," Vision Hispana, Sept 3, 2011.
"Incrementa la matrícula de hispanos en el colegio," Vision Hispana, Sept 3, 2011.

"San Francisco marketer shines light on Latino conservation innovators," Hispanic MPR.com, Sept 2, 2011.
"A Green Moment for Latino Entrepreneurs," U.S. Dept of State interview, Aug 20, 2011.
"The Work of a Lifetime; A Latina's Call to Action," LatinaStyle Magazine, July/Aug 2011.
CBS TV Interview, KPIX Channel 5 Bay Sunday, July 24, 2011.
"Cautious optimism for Latino Businesses, Entrepreneurs," Northern Colorado Business Report, July 28, 2011.
"Latino Women Need More GRACE," Radio interview, Only3Degrees w/Denai Vaughn, The Networking Queen, July 14, 2011.
"Hispanics Rank High on Digital Divide," The New York Times, June 17, 2011.
"Hispanics Rank High on Digitial Divide," Inspiration Central, June 17, 2011.
"Where Governments Fail, Private Groups Step In to Bridge Digital Divide," The Bay Citizen, June 17, 2011.
"Gracefully Global," (feature article), Latino Leaders Magazine (the Latina issue), April-May 2011.
"NSHMBA Profiles," (author profile), National Society of Hispanic MBAs Magazine, Spring 2011, p.46.
BlogTalk Radio Show with Daniel Gutierrez, March 2, 2011.
LATINA Style Business Series, "Entrepreneur of the Year" honors, May 2010.
"Latino Leadership Summit," Comunidad del Valle TV show on NBC 11. Feb 2010.
"Changing Core Identities," WIN Without Competing! BlogTalk Radio Show with Dr. Arlene Barro, February 5th, 2009.