News Release, Updated:  March 31, 2014 
[Download our entire original press release here as Word doc or just keep reading. Text of The White House news release listing all ten honorees follows our release below.]
Obama Administration Recognizes the Leadership of Woman Veteran and Founder of Multicultural Educational Publishing Company Gracefully Global Group for Her Work to Raise Expectations of Latino Students and Voices of Veterans
Graciela Tiscareño-Sato was honored as a "Champion of Change" for creating award-winning K-College literature showcasing contributions of innovative Latino Americans to shatter stereotypes
March 31, 2014 (San Francisco Bay Area)—California veteran, publisher, author, and keynote speaker Graciela Tiscareño-Sato joined nine other women veterans at the White House last Tuesday to be honored as "Champions of Change" and leaders in their communities.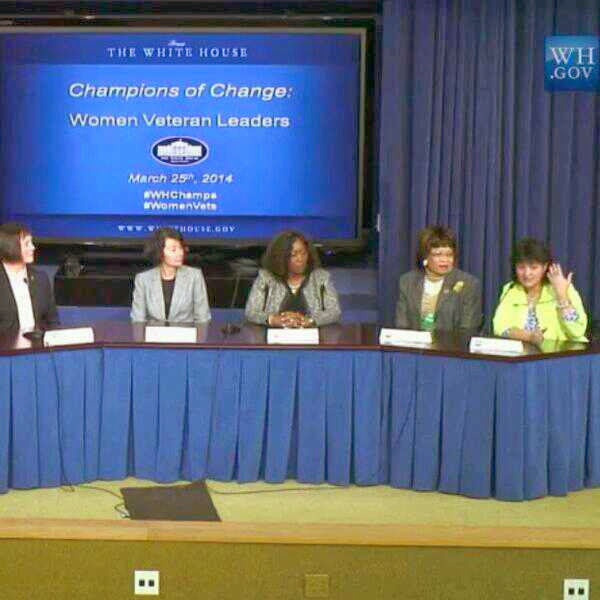 Specifically, Ms. Tiscareño-Sato was honored for her military service as an Air Force officer and for her entrepreneurship, the latter for creating what may be the nation's only Latina veteran-owned multicultural educational book/eBook publishing company with global distribution. Gracefully Global Group's mission is to create aspirational literature to showcase positive images of highly-educated Latino Americans serving this nation as innovators, scientists, entrepreneurs, military members and more. She brings this inspirational content to life as a STEM Consultant and speaker in K-College settings, so that all students and their educators can view accomplished Latinos in a positive light. More importantly, through this unique literature, Latino students are introduced to role models that may be missing in their lives, and aspire to pursue higher educational pathways.
Tiscareño-Sato, daughter of Mexican immigrants, was awarded an Air Force ROTC scholarship to attend U.C. Berkeley after graduating from high school in a small Northern Colorado town. At Berkeley, she completed both AFROTC Aerospace Studies and her degree in environmental design and architecture. Upon graduation, she became a commissioned Air Force officer and served globally as a navigator and instructor onboard KC-135 refueling jets for nine years. She completed her master degree in international business management while on active duty. She benefited from excellent mentoring by several business women as she transitioned from military to civilian life; now she helps other military veterans build professional networks and business skills via personal branding workshops. She's equally passionate about raising education expectations for Latino students as evidenced in the literature she helps to create.
"I'm overflowing with gratitude at being recognized by the White House for my military service and my dedication to creating unique literature that showcases Latino contributions to the USA," said the Chief Executive Officer of the East Bay independent publishing company. "At Gracefully Global Group, we're driven to create purposeful, bilingual and multicultural literature to address our Common Core Standards in America's classrooms. Our books are found in print and digital formats in classrooms and libraries, including those serving children on military bases around the globe. We're hopeful that this recognition from the White House will encourage invitations into the traditional literary ecosystems of organizations like the New York Times Book Review, School Library Journal and the Scholastic Book Fair catalog as America becomes more Latino each day. I'm confident this honor will open doors that so far have remained closed to innovative publishers like us."
The firm is creating an award-winning series of green economy entrepreneurship profiles under the Latinnovating® brand. Highly-creative Latino Americans create twice as many businesses as any other demographic segment in the USA, yet stories of accomplished Latinos receive little media attention. Young people are therefore denied examples of highly-educated role models in both school literature and mainstream media. Tiscareno-Sato is documenting the life journeys and educational pathways of many Latino sustainability leaders, inventors and job creators so that many more students, especially Latinos, will emulate their examples to benefit both people and planet.
The bilingual Captain Mamá book series was inspired by Tiscareño-Sato's young son one night when he pulled patches off her military flight suit and asked questions about their meaning. She discovered a total lack of bilingual (English/Spanish) children's literature about women serving in the military; she decided to create a book series to share her global aviation career with children. She aims to inspire future aviators, even if they, like her, claim Spanish as their first language.  Good Night Captain Mamá, the first in the planned series, appeals to K-3rd grade students, their teachers and parents because it features a little Latino boy whose mamá flies onboard a cool airplane that serves as a flying gas station. The gentle illustrations by Castro Valley illustrator Linda Lens (daughter of an Air Force veteran) send a powerful message that "Latinas and mommies are veterans too!" This unique picture book was recently named a finalist in the "Best Educational Children's Book – Bilingual" category in 2014 International Latino Books Awards that will be decided in June at the American Library Association convention. It's quickly becoming a favorite in schools, libraries and homes to celebrate Women's History Month, Memorial Day, Veterans Day and Hispanic Heritage Month.
To amplify the literary voices of women veterans, Tiscareño-Sato recently cofounded the National Women Veterans Speakers Bureau with Navy veteran Linda Maloney. This unique bureau of speakers is comprised entirely of female veterans who are published authors and professional speakers on a wide variety of topics.  As this indie publisher enjoys ongoing success breaking into more and more school districts and libraries across America, Tiscareño-Sato hopes more military veterans and Latinos will decide to publish their own stories.
"What's more important than raising your own unique voice to craft literature that can spark others to dream of bright, adventurous futures?" asks the mother of three.
Tiscareño-Sato's mantra of always having high educational expectations for children stems directly from her experience raising a daughter with dual-sensory impairments who was born weighing a little over a pound. Alongside her husband Genro Sato, she has advocated forcefully for challenging goals and support services in the special education system to ensure her daughter achieves both literacy and a joy of learning. This parental advocacy work, in tandem with dedicated educators, has resulted in her daughter becoming a literate, joyful Braille reader and Braille technology whiz in middle school. This decade of advocacy experience has led Tiscareño-Sato to insist that ALL educators, administrators and parents raise expectations of Latino children who are capable of everything expected of them. When she speaks at educational conferences, she calls for "expectation reform." Providing Latino students, their peers, their parents and their schools, with inspirational Latino literature helps raise those expectations.
The White House recording of the Women Military Veteran Leaders Champions of Change event honoring ten women is here: [[https://www.youtube.com/watch?v=im7eATM3Isc]  The official White House press release text is located below our release here: [ http://bit.ly/Q0TVTE] Graciela's service and business was honored in this moving tribute on the Floor of the House of Representatives by her Congressman as seen here. http://bit.ly/1j98AWX
About Gracefully Global Group LLC
Gracefully Global Group LLC is the nation's award-winning, educational publisher of innovation, leadership and entrepreneurship literature spotlighting the Latino community for use in K-12 school districts and university classrooms. The firm creates and presents books, eBooks and DVDs that inform, inspire and motivate a variety of audiences into action and toward higher education. Service offerings include STEM workshops for students, professional development for staff wishing to better understand and serve Latino families and parent engagement workshops in English and Spanish. We assist school districts so that all children and especially children of color, can see MANY successful role models and imagine themselves in those roles too. Find our book fan pages on Facebook and our company site here. The firm is certified by several organizations as a woman-owned, minority-owned and veteran-owned small business and registered in the federal SAM system. Learn more at www.GracefullyGlobal.com
Media Contact for Gracefully Global Group

Lynette Hoy, Fire Chief at Firetalker PR™
-----------------------------------------------------------
The text of the news release issued by The White House, listing all of the women veterans who will be honored, is below.
THE WHITE HOUSE
March 21, 2014
White House Highlights Women Veteran Leaders "Champions of Change"
WASHINGTON – On Tuesday, March 25, the White House will honor 10 local leaders who are "Women Veteran Leader Champions of Change."  The event will honor women veteran industry leaders, highlighting their incredible contributions to our nation's business, public and community service sectors.
In his State of the Union Address, President Obama declared, "We are stronger when America fields a full team." As we move to leverage the power of a fully represented "Team America," the Department of Veterans Affairs (VA) is advancing the cause of our 2.2 million women veterans. Women veterans are one of the fastest-growing populations of veterans. Now 10%, by 2020, they will constitute over 12% of all veterans.
As the nation celebrates Women's History Month, it is important to salute women Veterans for their accomplishments and contributions to society. They have broken barriers and capitalized on the many leadership opportunities afforded through military service. We know that women Veterans are models of character, courage and commitment who continue to blaze trails and open doors.
America depends on the traits veterans embody -- dependability, resourcefulness, diligence, a team focus, and a can-do attitude – to make good on the President's efforts to re-energize our economy.  After serving our country in uniform, women veterans go on to serve our communities and our workplaces as a positive force for America's strong and growing middle class.
The Champions of Change program was created as an opportunity for the White House to feature individuals doing extraordinary things to empower and inspire members of their communities.  The event will be moderated by The Honorable Gina S. Farrisee, Assistant Secretary, U.S. Department of Veterans Affairs and Elisa Basnight, JD, MPA, Director of the Center for Women Veterans, U.S. Department of Veterans Affairs. The event is closed to press but will be live streamed on the White House website. To watch this event live, visit www.whitehouse.gov/live at 10:00 am ET on March 25th.  To learn more about the White House Champions of Change program and nominate a Champion, visit www.whitehouse.gov/champions.
Erica Borggren, Director of the Illinois Department of Veterans' Affairs
Chicago, IL
A Rhodes Scholar and West Point graduate, Erica Borggren currently serves as the Director of the Illinois Department of Veterans' Affairs (IDVA).  There, she spearheaded the creation of Illinois Joining Forces (IJF), a statewide public-private network of nearly 200 organizations working together to serve service members, veterans, and their families better; a nationally awarded program, IJF serves to create a collaborative, "no wrong door" system of military and veteran support.  Under Erica's leadership, IDVA has also created a very successful Women Veterans Program and Veteran Entrepreneurship Program.  Prior to her leadership in Governor Quinn's Administration, Erica served as a speechwriter for General David Petraeus in Iraq and as a company commander in Korea.
Martha Daniel, President and CEO Information Management Resources, Inc.
Aliso Viejo, CA
Martha Daniel, President and CEO Information Management Resources, Inc. (IMRI)
Martha's 35 years career in Information technology began during her time as a Cryptologist in the U. S. Navy and has spanned both corporate and government sectors.  In 1992, she founded Information Management Resources, Inc. (IMRI) to provide technical support for the financial industry.   Today IMRI delivers comprehensive technical and engineering support services specializing in cyber security, data center operations and consolidations, program management, and telecommunications for the federal government and civilian agencies as well as the private sector.  Ms. Daniel is responsible for managing the corporation's strategic vision and was recently recognized by the Santa Ana District in 2013 as finalist Small Business Person of the Year by the U. S. Small Business Administration.  A published author and frequent speaker, Ms. Daniel co-authored two books entitled, On the Other Side of Midnight 2000, An Executive Guide to the Year 2000 Problem and recently released Million Dollar Conversations.  As a service disabled veteran entrepreneur, Ms. Daniel is committed to serving the interest of other veteran entrepreneurs and has served as President and currently as Executive Vice President of the Elite Service Disabled Veteran Owned Business Network, Orange County Chapter.
Mary Johanna Forbes, Assistant Director for Veterans Services for the Washington State Department of Veterans Affairs
Dupont, WA
COL (Retired) Mary Forbes graduated from the US Military Academy in 1983, the US Army War College in 2006 and served on active duty with the US Army and the Washington Army National Guard for over 26 years.  As the Assistant Director for Veterans Services for the Washington State Department of Veterans Affairs, Forbes champions the federal and state initiatives to end veteran homelessness.  Her efforts have resulted in communities greatly expanding their capacity to serve homeless veterans and significantly reduced the number of homeless veterans in the state over the last 4 years.  To prepare for reductions in military forces, Forbes spearheaded an effort at Joint Base   Lewis McChord to help transitioning veterans identify employment and education options for life after military service.  Forbes' guiding principles of building partnerships, fostering productive relationships and providing world class customer service at the Washington State Department of Veterans Affairs has proven to be a success for the veterans and their families in Washington State.
Ellen Houlihan, Vice-Chair, Board of Directors, West Point Association of Graduates
Allen, TX
Ellen Houlihan, is Vice-Chair, Board of Directors, West Point Association of Graduates   Ellen is the first West Point woman graduate to be elected to a senior leadership role of the 50,000 West Point graduate members.   Her service includes leadership of the overhaul of WPAOG Bylaws and governance model, unchanged since the Civil War.   The overhaul provides efficient and effective operational transparency of the Board of Directors and management staff.  She has lead the largest and most diverse committee of the Board of Directors charged with membership, graduate awards, diversity and inclusion, and 130 alumni clubs around the world.   In her role as Vice-Chair, Ellen leads the effort to identify and recruit for skills needed for WPAOG's continued growth and relevance to West Point and the Nation.  Ellen was also the first woman West Point graduate elected President of her West Point class and first woman president of a local alumni club.
From the day of its founding on March 16, 1802, West Point has grown in size and stature, yet remains committed to the task of producing commissioned leaders of character for America's Army. Today, the Academy graduates more than 900 new officers annually, which represents approximately 25 percent of the new lieutenants required by the Army each year. The student body, or Corps of Cadets, numbers 4,200, of whom approximately 15 percent are women.
Sonia Jo Kendrick, Founder of Feed Iowa First
Hiawatha, IA
Sonia Kendrick was sent to war in Afghanistan in 2003.  There she experienced firsthand what food insecurity looks like.  She was surprised to come home to America and find that her state of Iowa had 400,000 food insecure people and that we import over 90% of our food.  Sonia Kendrick earned a degree in Agronomy and is currently in progress on a master's degree of sustainable food systems. She sits on her counties food systems council, is a Sister of the Planet for Oxfam, helped found Iowa's Women's Veteran Farmer Coalition, founded Feed Iowa First through which she has grown thousands of lbs of vegetables that she has donated to food banks and Meals on Wheels, most importantly is the single mother of two girls.  Her purpose is to bring health, vitality, food security to her people, and be a farmer of farmers.  As a suffer of PTSD farming keeps her grounded.  Her mission to grow vegetables for food banks and assist landless beginning farmers to start farming and to transform her food system from a transportation based food system to a locally based food system.  Sonia firmly believes that food security is national security and that plows are always greater than swords!
Stacey Young-McCaughan, Director of Research for the STRONG STAR Consortium
Llano, TX
Stacey Young-McCaughan, RN, Ph.D., U.S. Army Colonel (retired), Professor, School of Medicine, The University of Texas Health Science Center at San Antonio Dr. Young-McCaughan serves as Director of Research in the School of Medicine at The University of Texas Health Science Center at San Antonio for the STRONG STAR Consortium (South Texas Research Organizational Network Guiding Studies on Trauma and Resilience), which is a multidisciplinary and multi-institutional research consortium designed to understand, prevent, and treat combat-related posttraumatic stress disorder (PTSD) and comorbid conditions among military Service Members and recently discharged Veterans who have deployed in support of the wars in Iraq and Afghanistan. STRONG STAR uses a highly effective research infrastructure to support 24 ongoing projects; over 20 collaborating civilian, military, and VA institutions; and over 100 partnering investigators. To date, over 1,000 Service Members and Veterans have been recruited into clinical trials testing evidence-based treatments to determine the most effective approach to the treatment of combat-related PTSD. As a registered nurse with a doctoral degree in physiological nursing, Dr. Young-McCaughan leads her own research program testing exercise interventions in the recovery from various conditions including PTSD. With expertise she acquired during her 29 years as an officer with the U.S. Army Nurse Corps, including key leadership appointments within the Defense Department related to research and evidence-based practices, Dr. Young-McCaughan plays a critical role in all STRONG STAR research projects as she helps direct academic and military investigators in the conduct of scientifically sound, military-relevant, and ethical research.
Dana L. Niemela, MSW, Coordinator of the Homeless Veterans' Reintegration Program
Denver, CO
Dana Louise Niemela, MSW, is a Veteran of the United States Navy and the Coordinator of the Homeless Veterans' Reintegration Program (HVRP) for the Denver Department of Human Services. As the HVRP Coordinator, Dana has worked to create a substantial supportive services network throughout the Metro Denver Region to meet the needs of the hundreds of homeless veterans her program has served throughout her tenure. She has leveraged her relationships with community partners that include Federal, State and Local governments, non-profit organizations and the private sector to increase employment opportunities, increase access to and funding for behavioral health programs serving the military and veteran community, and provide veterans of all eras and socio-economic backgrounds access to community and service opportunities. Her efforts have earned her National recognition for efforts towards community building and coordinated service delivery. In addition to her role as the HVRP Coordinator, Dana also serves on the Colorado Board of Veterans' Affairs, is the Homeless Coordinator for VFW Post 1, the Veteran Outreach Coordinator for the Denver Chapter of Team Red, White, and Blue, and a volunteer for Team Rubicon.
Coral Wong Pietsch, Judge, United States Court of Appeals for Veterans Claims
Honolulu, HI
Coral Wong Pietsch serves as a Judge on the United States Court of Appeals for Veterans Claims and has had a lifetime of distinguished public service at the state, national and international levels. She began her public service when she joined the military and served on active duty in the United States Army as a Judge Advocate. Later, she continued her service in the US Army Reserve and rose to the rank of Brigadier General, becoming the first woman in the Judge Advocate General's Corps to be promoted to general officer and the first woman of Asian ancestry to be promoted to general officer in the Army. In 2007, as a Department of Defense civilian, she volunteered to deploy in support of Operation Iraqi Freedom and served as Deputy Rule of Law Coordinator for the Baghdad Provincial Reconstruction Team. In cooperation with the Iraqi Bar Association, she helped establish a first-ever Legal Aid Clinic at one of Iraq's largest detention facilities, a clinic that has continued to operate. On the state level, she served as the Chair of the Hawaii Civil Rights Commission. During the time she served, the Commission improved its administrative process, eliminated backlogs and implemented public education and awareness programs.
Judge Pietsch was appointed to the bench in July 2012.
Graciela Tiscareño-Sato, CEO and Founder of Gracefully Global Group LLC
Hayward, CA
Daughter of Mexican immigrants, Graciela Tiscareño-Sato is CEO and Founder of Gracefully Global Group LLC, which publishes award-winning, multicultural books and eBooks for K – College readers showcasing positive contributions of highly-educated Latinos. She's won four international book awards for Latinnovating: Green American Jobs and the Latinos Creating Them; recently released Good Night Captain Mama/Buenas Noches Capitán Mamá, the first bilingual children's book about women serving in the military, was inspired by Graciela's service as an Air Force KC-135 navigator and instructor. She received an Air Medal for combat air operations over Iraq.
Graciela is a bilingual STEM consultant for K-college educators serving diverse student populations.  She is also a forceful education advocate for children with special needs and other children who face low expectations. Graciela leads students, especially children of immigrants like her, to aspire far beyond their current circumstances.  Her aspirational literature sparks imaginations and presents educated minority role models in 21st century professions.
As founder of a Latina/veteran-owned publishing company, she's redefining who supplies our schools and libraries with much-needed multicultural literature.. Graciela completed both AFROTC Aerospace Studies and her bachelor degree in Environmental Design and Architecture from U.C. Berkeley; she earned her master degree in international business management at Whitworth University while stationed in Spokane, Washington.
Deborah Scott Thomas, Founder, President & Chief Executive Officer of Data Solutions & Technology, Inc.
Edgewater, MD
Deborah Scott Thomas retired as a Colonel from the United States Air Force Reserve in 2006, having served her country for three decades. She is the Founder, President & Chief Executive Officer of Data Solutions & Technology (DST) Incorporated, a management consulting firm located in Lanham, Maryland. For the past 20 years, Deborah has been respected for her business acumen and is considered a leader with expertise in building successful client teams while focusing on strategic operations and execution. She dedicates her time to educational and philanthropic causes particularly Historically Black Colleges and Universities (HBCUs) and STEM (science, technology, engineering and math) initiatives. Further, she is a devoted supporter of the March of Dimes and has participated in an array of programs to support its goals and mission for the past 30 years.
Recently, Deborah was recognized by the Washington Business Journal as one of the 2014 Minority Business Leaders and the 2013 Most Admired CEO Readers' Choice Award for Professional Services. She was recognized as the 2013 Business Leader of the Year by the Prince George's Chamber of Commerce. Also, she was appointed by Maryland Governor O'Malley to the Maryland Military Installation Council (MMIC).
###