Keynote at Community Event for Experimental Aircraft Association 663 in Livermore, CA
"I just wanted to take a moment and tell you that my wife and I really enjoyed your presentation last night at the Experimental Aircraft Association dinner. I had a chance to talk to the members last night as we were cleaning up; they all said they really enjoyed your talk. My favorite part of your talk? It was the combination of your story of your Air Force ROTC aviation experiences at Cal, your family being there at your Commissioning and being so proud of you, that the Air Force at that time couldn't put you in a combat role upon graduation from flight training…Maybe most of all, I enjoyed the amazing story about your daughter. I find that part very inspirational, that she is doing so well and is proficient in Braille. My wife knows the superintendent of the school district here and is planning on contacting her to tell her about your involvement with education. Thank you." Mark Palajac, Treasurer, Experimental Aircraft Association 663, Livermore, CA
More client testimonials are available at the Good Night Captain Mama site here and the Latinnovating site here.
Clients include:
Corporations
Hewlett-Packard (Palo Alto, CA)

Unum

State Street, Kansas City, MO

Boussias Communications, publishers of Athens' Netweek Magazine (Athens, Greece)

Oracle (Redwood City, CA)

Jones Lang LaSalle (Chicago, IL)
Military Installations
Fairchild Air Force Base, WA

Lemoore Naval Air Station, CA

Nellis Air Force Base, NV

Vietnam Veterans of America Chapter 757, Brookings, OR

Travis AFB, CA
Professional Associations
Business and Professional Women Foundation, Virginia

Women in Aviation International

Green Economy Business Opportunity Conference, Baltimore, MD

Green Schools National Conference, Denver, CO

National Society of Hispanic MBAs, Washington D.C. chapter

National Society of Hispanic MBAs, San Jose chapter

California Association for Bilingual Education

Texas Association for Bilingual Education


Austin Association for Bilingual Education

North Bay Leadership Council, CA




Hispanic Chambers of Commerce (various)

AAUW (various branches in WA and CA)

Heartland Latino Leadership Conference, Omaha, NE


Association of Latino Professionals in Finance and Accounting (ALPFA), San Francisco, CA

Green Festival, San Francisco, CA

All Stars Helping Kids, Santa Clara, CA

Hispanic MBA Magazine

Experimental Aircraft Association
Colleges and Universities
University of California, Berkeley; Haas School of Business

University of North Carolina- Chapel Hill

University of Rhode Island

University of Idaho

Portland State University, OR

National Hispanic University, CA

San Jose State University, CA

Texas State University-San Marcos, Texas

Texas A & M -College Station, Texas


Cal State University - Monterey Bay, CA

College of Business and Economics, Cal State University - Los Angeles, CA

Chemeketa Community College, Salem, Oregon

JFK University, Pleasant Hill, CA

Hofstra University, Hempstead, NY


Devry University - Oakland, CA

Chabot Community College, CA

Towson University, Baltimore, Maryland


Las Positas Community College, CA

Ohlone College,CA

Merced College, CA

Silicon Valley Adult Education, CA

College of San Mateo, CA

Notre Dame de Namur University, CA

Sonoma State University, CA

Foothill College, CA
K-12 Schools and School Districts
Ravenswood City School District, CA

Tender Steps of New York, Inc., NY

Pittsburg USD, CA

Education Service Center - Region 20, San Antonio, TX


Education Service Center - Region 10, Richardson, TX

Boerne ISD, Boerne, TX

Making Waves Academy, Richmond, CA

Puente Program Leadership Conferences (NorCal and SoCal)

Rocketship Schools, CA

Galena Park ISD, Houston, TX

Newberry Middle School, SC

New Lebanon School, CT

Silver Strand Elementary, Coronado Island, CA

Turlock USD, CA

Castro Valley USD schools


San Leandro USD CA

Castro Valley Parent Nursery School, CA

Manuel Cunha Intermediate School, CA

Lexington Elementary, Los Gatos, CA

Hillsdale Elementary School, San Leandro, CA


Austin Independent School District

Severance Middle School, Windsor, CO

Buck Lodge Middle School (Adelphi, Maryland)

Michael Anderson Elementary, Fairchild Air Force Base, WA


Stevens Elementary School, Spokane, WA

Akers Elementary, Naval Air Station, Lemoore, CA

RJ Neutra Elementary, Naval Air Station, Lemoore, CA

Phoenix Program at San Marcos High School, TX


Myatt Elementary School, El Campo, TX

Glasgow Middle School, Alexandria, VA
Public Libaries
Watsonville Public Library, CA

Rosemead Public Library, CA

Hayward Public Library, CA

San Mateo Public Library, CA

East Palo Alto Public Library, CA

Santa Cruz Public Library, CA

Pinole Public Library, CA

Hercules Public Library, CA

El Sobrante Public Library, CA

Crockett Public Library, CA

Ygancio Valley Public Library, CA

Stevens County Public Library (Washington State)

Patrick Heath Library, Boerne, Texas

Larry J. Ringer Library, College Station, Texas
As Keynote Speaker and Lecturer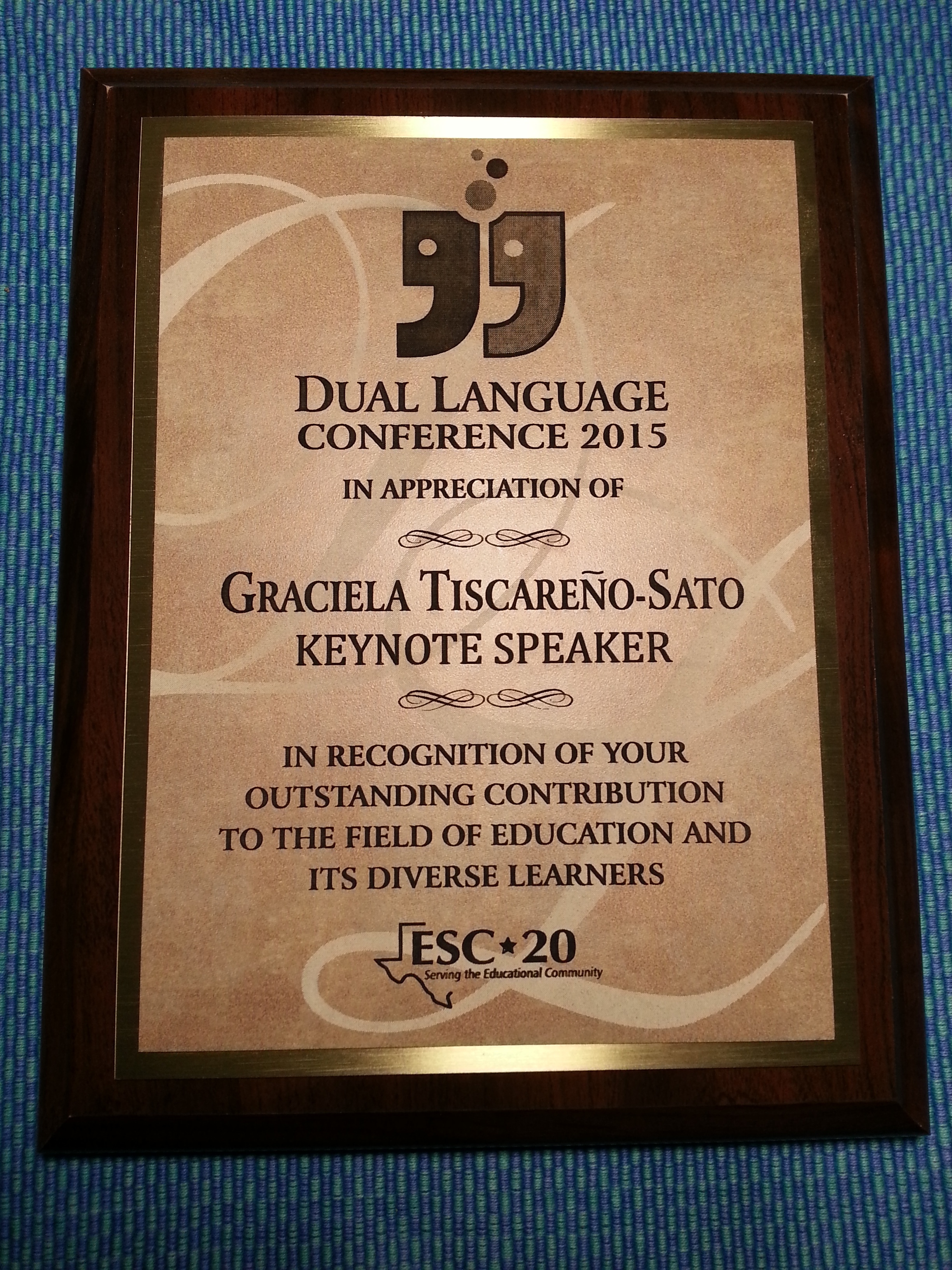 "Graciela is a multi-faceted businesswoman, setting her sights on providing effective and efficient information with the target of promoting and enhancing the lives of Latinos in a global fashion. Her journey takes her through education, as well, as she is determined to push through the myths of Latino children in education as English language learners. Her support in San Antonio, Texas during the 2015 Dual Language Conference, held at Education Service Center-Region 20, inspired educators of all levels in the field as she made her vivid, authentic stories come to life through the many connections with participants she created during her presence. Graciela's keynote address, and later intimate gathering with educators, provided these educators with a newfound passion for teaching and reaching all English language learners. Her numerous experiences and keen eye for learning and supplying her knowledge to others are guaranteed to promote a powerful punch in your program." - Clarissa Dovalina, M.Ed., Educational Specialist, Bilingual/ESL, Education Service Center Region 20, San Antonio, Texas
"True to the conference theme, "Embracing the Heart, Enriching the Mind," Graciela Tiscareño-Sato touched hearts and minds in her keynote address at the Region 20 Dual Language Conference in San Antonio. Challenging teachers to reconsider their student expectations, Graciela related how she started school speaking no English and through the help of caring educators became an accomplished student, aviator, businesswoman, and author. Not only did Graciela inspire teachers to view their English Language Learners through a future lens, she also taught practical strategies for developing writing skills during a following break-out session. Through these conference presentations, Graciela rekindled passion and ignited a desire in many teachers to help their students become the leaders of tomorrow." - Marcy Voss, Boerne ISD Special Programs Coordinator, Boerne, Texas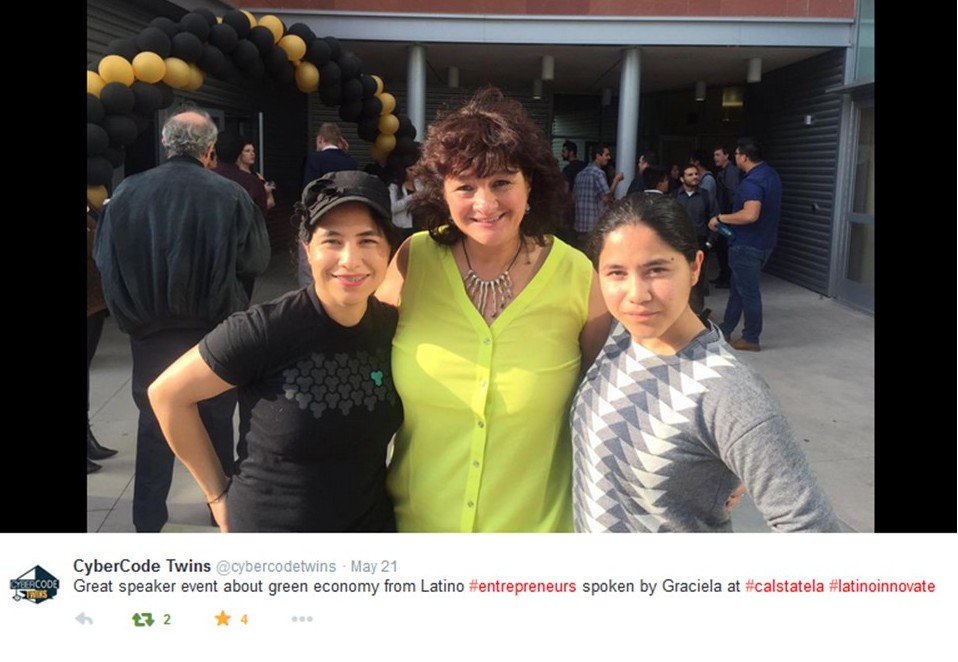 "Graciela spoke to the hearts and minds of entrepreneurship students in a way that made a lasting connection. She brought to life the fundamental connection students have to innovation and entrepreneurship in the Latino community. A thoroughly enjoyable and informative talk!" [Keynote presentation, 2015 CSULA Business Pitch Contest]
—Dr. Angela Young, Chair and Professor, Management Department, Editor, JBA, College of Business and Economics, California State University, Los Angeles
"As an educator whose population of students draws heavily from underrepresented groups, it was particularly gratifying to me to see how well Graciela connected with my young adult students. She promoted exploration of the STEM fields, modeled the virtue of perseverance, and challenged narratives of low-expectations. I strongly recommend Graciela as an ambassador of "grit" and authentic witness to the power of learning. - Layli S. Liss, Instructor/

Program Chair, Reading & Study Skills

, Chemeketa Community College
"By Ms. Tiscareno-Sato's accessibility, relevancy, and ability to inspire, she proved an exceptional commencement speaker for the 2014 Silicon Valley Adult Education's adult graduates. Her willingness to connect and follow-up with graduates was an outstanding offer to which students responded at the book-signing and in conversations."
—Susan A. Glass, Principal, Silicon Valley Adult Education
"On behalf of Hewlett Packard, thank you for making our Hispanic Heritage Month Celebration such a outstanding event. We appreciate the tim
e and creativity you invested to bring this to fruition. Your stories came together beautifully during the September 21st webcast. I am hearing from employees, and you are inspiring people to think differently, ask questions and to become engaged. This was our shared vision, and you made it possible."
—

Ashley Houk, Search Marketing Manager, Global Marketing Communications, Hewlett-Packard Imaging & Printing Group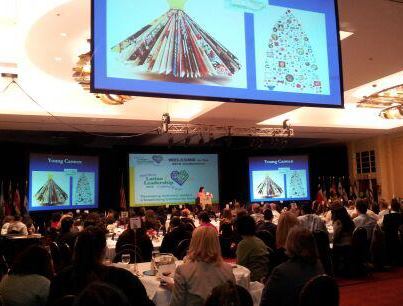 "I found your presentation regarding Latino entrepreneurship right on the mark and a compelling story. It's amazing how the media and politicians have cast a negative light over the entire Hispanic community in the US mostly due to the single issue of illegal immigration. The message that Latinos are a strong, vibrant and needed asset to the U.S. economy needs to be told and retold."
—Carl A. Fosco, Director HR Business Partner Services, Blue Cross & Blue Shield, Omaha, Nebraska
A teacher at the Phoenix Learning Center at San Marcos High School penned this piece for the San Marcos Daily Record after being so moved by Graciela's presentation.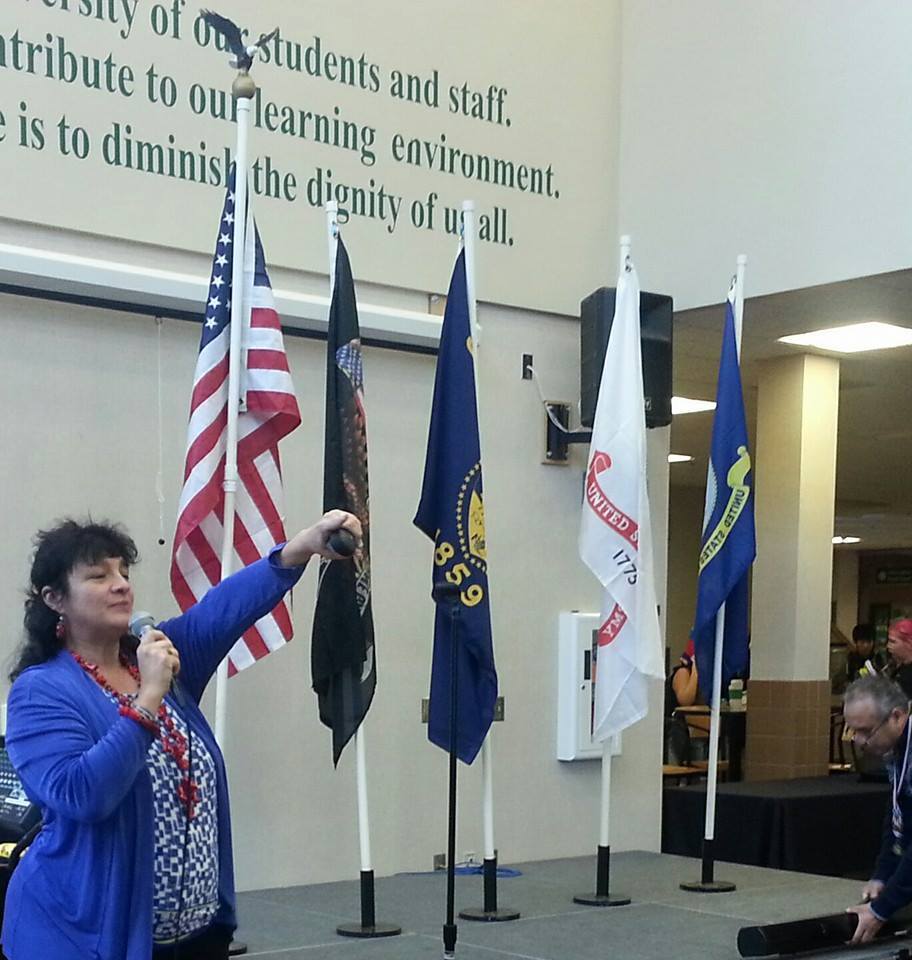 "Graciela's presentation at Chemeketa Community College located in Salem, Oregon was a tremendous success with our student audience and our campus community. She was able to deepen our insight into women in the military with an educational, engaging, and humorous style. Graciela is a pleasure to work with, and her extensive knowledge on the military was appreciated by all who attended. The students asked great questions, and the time she spent answering those questions was experienced and passionate. We want her to come back to Chemeketa Community College."
—Linda Ringo-Reyna, Multicultural Student Services Coordinator
"Your lecture was both inspiring and entertaining. What I loved most about the stories was the incredible breadth of experiences and knowledge of these innovative successes. Frequently, there isn't one set path that an individual can take; your stories appropriately illustrate different career journeys (including your own). Thank you so much for your work, and I wish you continued success."—LaTonya Henry, Assistant Director Career Services, Texas State University-San Marcos
"You were exactly what we were hoping for in a distinguished lecturer and what you shared with the students exceeded our expectations! I know the students learned a lot of valuable lessons through your interactive presentation and remarkable stories about sustainable businesses started by Latinos. It was very special to have you speak about your book, the Latino community and what a difference these business owners have made in our world. It is an area of business that should have more attention. I am glad you could come speak to the students and the San Marcos community to help open their eyes to something new and exciting." —Arin Ely, Student Development Coordinator & Academic AdvisorMcCoy College of Business Administration, Texas State University-San Marcos
"Graciela, the kids are still talking about your visit. One student went home with her book and made her mom sit down to look at it as soon as she walked in the door. We really appreciate the time you took to meet and talk to our students. My only regret is that we couldn't get you to everyone in the school."
—Ray Leonard, science teacher, Glasgow Middle School.
See story in school's newsletter.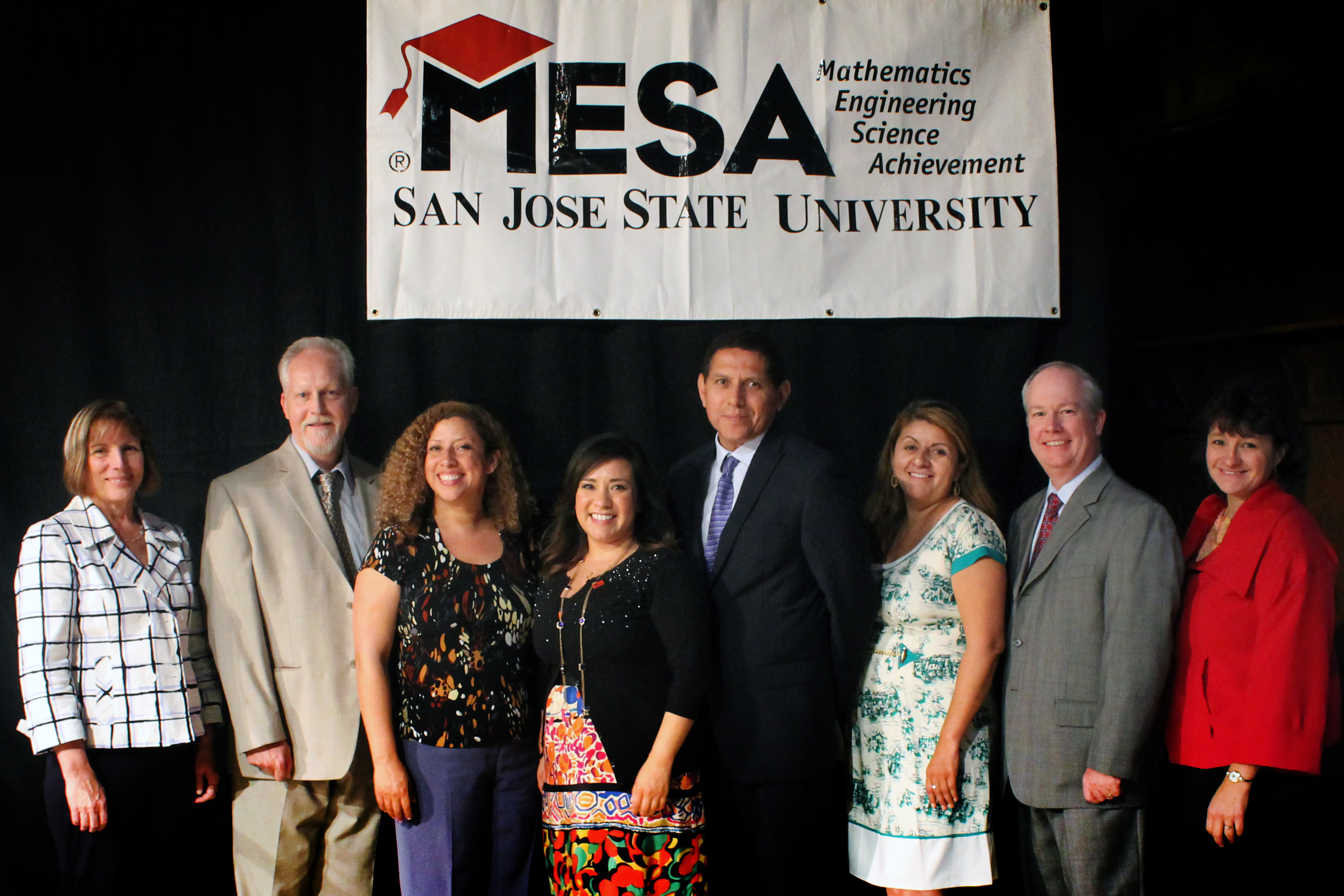 "Graciela's keynote address at our MESA graduation at San Jose State was exactly what our graduates needed to hear: a series of STEM success stories across a variety of industries, from communities of color. Her presentation included case studies of Latinos and Latinas profiled in her award-winning Latinnovating book and from her professional network too. That the presentation was delivered by a Berkeley-educated Latina who once flew onboard military airplanes as an aviator, was the cherry on top. I highly recommend her for events where you want your audience to leave informed, inspired and knowing that America's so-called minorities hold America's future in their very capable hands."
"Graciela Tiscareño-Sato is an interdisciplinary thinker marrying green innovations to environmental issues of the day. While she provides important and real life examples in those she has interviewed, she is also a living example of innovation herself. Graciela's overarching theme is based on the importance of the social network, how it contributes to the historical biography of individual development and the shaping of the Self (in a social psychological sense)."
—Dr. Armando Arias, Founding Director, Street Smart Think Tank a Division of Solution Strategies, Inc.
"Graciela captured the hearts and minds of the people attending our event. Her compelling story, filled with triumph over challenges, moved the audience to tears, laughter and knowing nods of their heads. Few speakers have the ability to connect with an audience as well as Graciela – who teaches leadership through her stories and her accomplishments. Her warmth, wit and grace made her so approachable that after she spoke, she was swarmed by people wanting to continue the conversation which Graciela gladly did!"
—Cynthia L. Murray, President & CEO, North Bay Leadership Council, Novato, CA
"For those of you lucky enough to host Graciela in person on your campus, let me assure you that she is a remarkably polished speaker who knows exactly how to connect with students of all backgrounds and abilities -- because she was very much "in their shoes" once herself. They can sense it and respect it and learn from it in a dozen different ways. After her lectures on my campus this term, dozens of students eagerly lined up with questions and comments and requests for advice; Graciela graciously spoke individually and in small groups with each one. Hers is a vision that can be shared by all."
—Scott Lankford, Department of English, Foothill College,Foothill College Center for a Sustainable Future
"Graciela came to CSU-Monterey Bay to speak during Earth Week. She is an outstanding, knowledgeable and highly motivational speaker. She engaged and motivated many of the students in the audience, and the faculty members as well. She affected this response by the power of her speaking, attention, open-mindedness and energetic presence. After hearing the case studies she shared, I purchased several copies of Latinnovating. I will share with people for whom I know it will make a difference. One of the many things that I appreciated about her presentation was her demonstration of how she herself 'walks the talk' by taking a huge financial and marketing risk in publishing her book in a manner that will reduce its carbon footprint. She is a perfect example of those innovators of whom she writes and of whom many people will look to as a role model."
—Dr. Daniel Fernandez, Professor and Chair, Division of Science and Environmental Policy, CSU Monterey Bay
As panel moderator at events

"Moderating a panel means knowing how to keep the attendees' interest, excitement, and expectations of the event, as well as enabling the panelists to share their knowledge. You can only do this by being knowledgeable of the topic and taking the time to know each of the panelists. Doing all of this is challenging given the time constraints and the breadth of area to be covered. At the National Society of Hispanic MBAs Washington D.C. chapter event called "Latinos Shaping the Green Economy," Graciela Tiscareno-Sato was able to wonderfully meet everybody's expectations. The attendees, panelists, sponsors and our chapter board were very pleased at the end of the event. I want to thank Graciela for doing an excellent job of moderating. I highly recommend her to be in future events and look forward to working with her again."
—Mauricio Leyva, Junior Professional Associate, the World Bank and
Vice President of Small Business Development, National Society of Hispanic MBAs D.C. chapter
As marketer and thought leader
"Grace, As you know, I'm in the midst of collecting supporting information for all the claims in the value scenarios so the (sales) regions are confident using the claims in our direct marketing campaign. In the course of this task, I've spent probably 60 hours searching for and reading analyst reports, white papers, presentations and customer case studies. And once again, I find myself uniquely grateful for the quality, professionalism and "globality" of your work. Everything you do is well researched, with legitimate attribution of data sources and you consistently cite examples, costs and data facts from around the world. No one comes close to the complete picture of quality you consistently deliver. Your work is consistently clear, credible and global and I can easily leverage it for discussions with my partners in any region. You make it easy to believe our story. You make it easy to use your work in my work. Your name is my new favorite search keyword in BeFirst (internal SEN global sales/marketing portal). I just wanted you to know once again, I think you are standard bearer for great marketing deliverables. Thank you!"
—Tressa Brophy, Director, Installed Base Marketing Programs, Global Marketing and Communication, Siemens Enterprise Networks (SEN)

"Graciela's writing has impressed me at a number of levels. She always manages to capture the passion and enthusiasm of her subjects (or the subject matter) in a clear, effective manner. Her copy comes in clean, with little to no need for editing. Her sources are well identified and she makes the follow-up and fact-checking processes easy. She has a commitment to make sure that each article is all it can be and has always made herself available for follow up questions. She goes the extra mile to get "it" right. The [Hispanic MBA] magazine's general readership has responded positively to Graciela's articles. As important, the association whose magazine her articles appear in, regularly comments on the quality of her work.
We look forward to having Graciela do more articles in the future. Her work is creative, yet disciplined, and we can rely on her to do a good job, within budget and by the agreed-upon deadlines."
—Bruce Matzner, Publisher, Hispanic MBA Magazine, December 2009
"Grace is an incredible individual who is passionate about her work and life. Her positive attitude is contagious. She is a visionary, highly creative and extremely talented. No project is too big or too small for her. Grace consistently delivers over and above expectations, and always on time. Her results, your results - simply outstanding! And though her personal and professional commitments may be demanding, she finds time to nurture relationships and sees to the development of those around her." September 2009
—Eileen McCoy, EVP Marketing, NSHMBA San Jose chapter

"I've had the opportunity to work both directly and indirectly with Grace over the past 10+ years, watching her time and again deliver thought provoking, articulate and meaningful content. She's one of those rare individuals who can bridge the span from strategy to tactical implementation with equal aplomb. No doubt she possesses a long list of impressive credentials, but perhaps what strikes me most is the diversity of her skills and her ability to create a wide variety of content that resonates with her varied audiences. She's truly one of the most well rounded professionals I know, mastering all she attempts. From creating complex marketing plans to delivering compelling public speeches to spearheading philanthropic initiatives to writing children's books to flying airplanes to raising bright, articulate, independent children – she's done it all with relish and outstanding results." August 22, 2009
—Janyce Harper, Vice President, Marketing - No. America, Siemens Enterprise Communications
On Grace's Personal Branding Workshops
"I gained new insights in your seminar on the issue of personal branding and learned some techniques for helping others discover theirs. I have already incorporated the concepts of having a "30-second elevator pitch" into the work I am doing here with a group of high potential employees in a mentoring program. Thanks so much for your suggestions."
—Carl A. Fosco, Director HR Business Partner Services, Blue Cross and Blue Shield, Omaha, Nebraska
"As a marketing professional myself I like to look to other leaders in the field to learn fresh new ideas. Your presentation was great and helped me to focus in on my personal branding. The last exercise where we wrote down items about ourselves was especially helpful to me to begin my journey of branding myself."
—Darlene Tenes, Owner and Designer, CasaQ Ornaments, http://www.casaqornaments.com and Marketing Maniacs, http://www.maniacidea.com

"Graciela blew our students out of the water! Her workshop was very valuable and she engaged everyone individually. This allowed each participant to truly become involved, ask many questions and learn from her. Graciela's techniques of engaging students was very effective and fun. Students left with a clear understanding about how to market themselves in order to go out into the workforce, start a business or apply to graduate schools." —Daliana Rivera, Student Veteran Program, Towson University
"Graciela showed us that our skills learned in the military can be repackaged to help showcase our talents. She showed us how to broadcast our skills to others by networking and branding ourselves. Most importantly, she gave us the confidence and knowledge to broadcast our talents to form our own brand." —Chris Powell, Veteran, Towson University Student
"Graciela is extremely personable and possesses a wealth of knowledge. I wish there were more veterans like her with the skills of public speaking to reach out as she does." —Kevin Morgan, Veteran, Towson University Student
University classroom lecture "Globalization and Race"
"Graciela, thank you again for coming to talk to the AMCS 475 class. The class was appreciative, most of all, of the stories of innovations by Latino entrepreneurs. It was good to see examples of local problems being solved by their innovations. The students, however, disagreed with the neoliberal assumptions about economic globalization, e.g., that a woman in Indonesia making $1.50 a day and an American paying $100 for a pair of shoes is not necessarily a matter of injustice. Or with the view that business and economic imperatives and incentives are more important than other factors like resource depletion, environmental degradation, and cultural homogenization. I understand it wasn't the main intention of your presentation to talk about these 'big' ideas but the students were responding to some of the examples that were given in class. In any case, these are big questions and I'm glad that your presentation gave them the opportunity to test what they know and believe about the effects and consequences of economic globalization."
—Dr. Eleneita Strobel, Associate Professor and Chair of American Multicultural Studies Department, Sonoma State